Sabyasachi has never failed to take the Indian fashion industry by storm with his unique sense of style and peculiar taste in fashion. Being in touch with his traditional roots and amalgamating them with modern ethnicity Sabyasachi Mukherjee present the Indian brides with the best ethnic wear to live their fairytale dream. His creation has an awe-striking appeal and a unique identity due to the intricate designs, exceptional colour combinations, traditional essence and sartorial statement. Weaving magic one ensemble at a time and creating enchantment with his signature touch for every Indian Bride Sabyasachi lehenga's are an epitome of allure.
Check out the stunning noteworthy lehengas that are an absolute bridal finesse that will have everyone's heart:
Classic Red Sabyasachi Lehenga: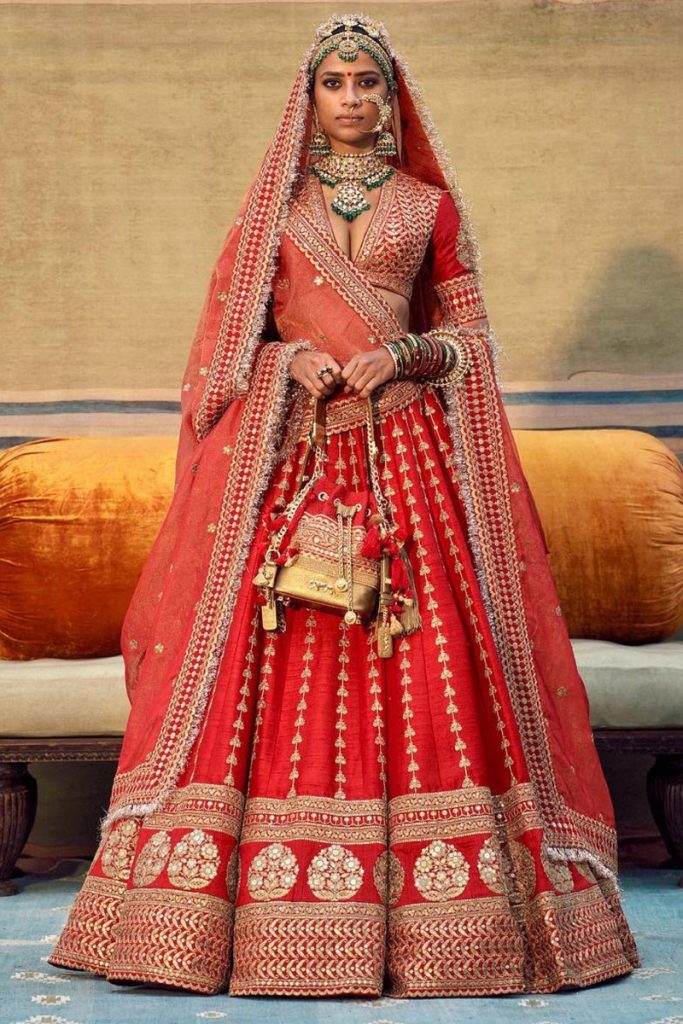 Sewed with perfection and affection, Sabyasachi bridal lehengas speak of royalty and beauty crafted carefully by Indian artisans. A red Sabya lehenga defines Indian culture in the most captivating way. The intricate designs and heavy zari work resonate with the charm and heritage of Indian brides. The tilla and zardosi work add a statement to the stunning bridal outfit. Handwork, heavy dupatta and detailed golden embroidery is a perfect bridal outfit for the D-day.      
Pastel Lehengas:
Pastel lehengas are a dreamy and iconic choice when it comes to being an experimental bride. One can never go wrong with pastel colours as it adds a sense of grace to the Indian silhouette like no other colour. The smooth velvety texture of the fabric, along with embroidery and sequin embellishments, exhibit a unique couture extravaganza. Pastel lehengas are a definite yes if you want to look like a vision at your wedding.  
The Bohemian Vibe: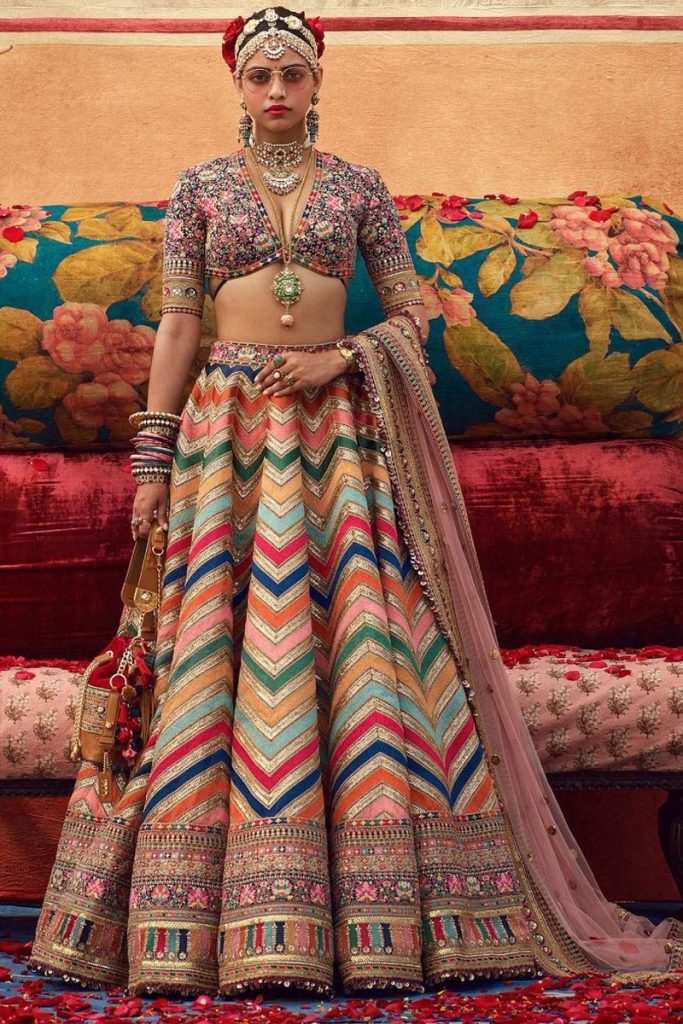 With the growing popularity of culture and modernity affixed together to reflect the modern-day Indian Bride, the Bohemian Sabyasachi lehenga is the perfect wedding attire. A voguish touch with distinctive bridal features makes the bride look impressive. If you are a bride who wants to adorn classic traditional style with modernity, the Bohemian bridal lehenga is your go-to option.      
The White Edit: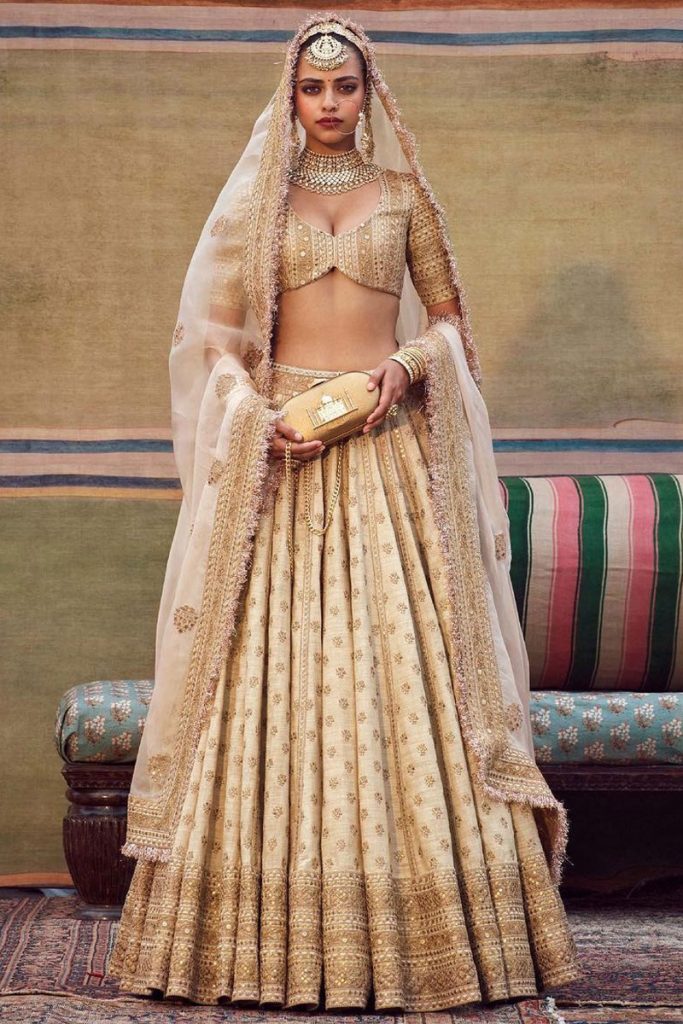 Who said, the white bridal attire is limited to just white weddings. Indian brides are experimenting with colours, and what better than the colour that signifies peace and purity to step into wedding bliss. A Sabyasachi white lehenga is nothing less than a fairytale grandeur. Heavily embellished borders, zardosi butti work and a pretty veil, add a perfect touch of Indianness to this remarkable bridal apparel.
Quirky- embroidered lehenga: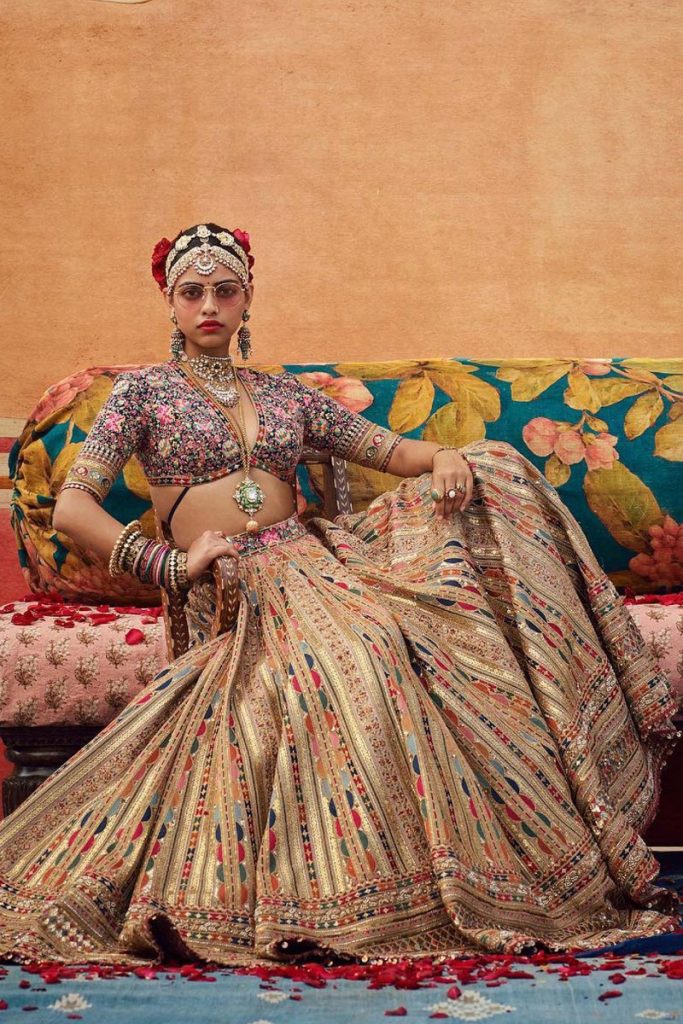 A classical bridal lehenga by the maestro designer is an ode to the timeless Indian heritage. A perfect fusion of elegance, bling and richness is sewn in delicate embellishments and colours that reflect confidence, comfort and modernism. Quirky-lehengas are the latest trends in traditional wear that is a mix of custom and modernity. Lehengas narrate the authenticity of Indian couture with luxury celebrating the bold choices of today's conventional Indian bride.     
The Velvet Affair: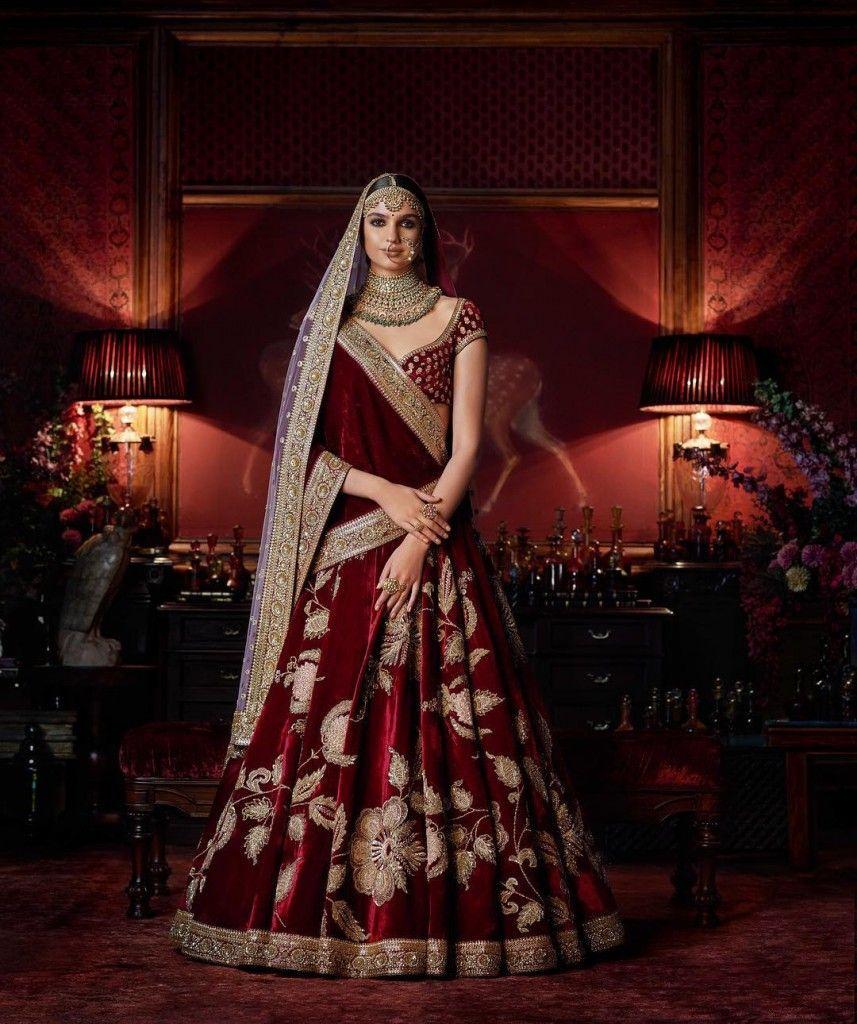 Velvets are a perfect example of regality. The soft touch of the fabric and aestheticism that comes with it is extraordinary. The Velvet lehengas by Sabyasachi are appealing and indeed heart-swooning. The intricate handwork and elaborate designs amplify its eternal beauty. The imperialism emanates through this impeccable piece of clothing, making it perfect for a winter wedding.  
Blush Tones: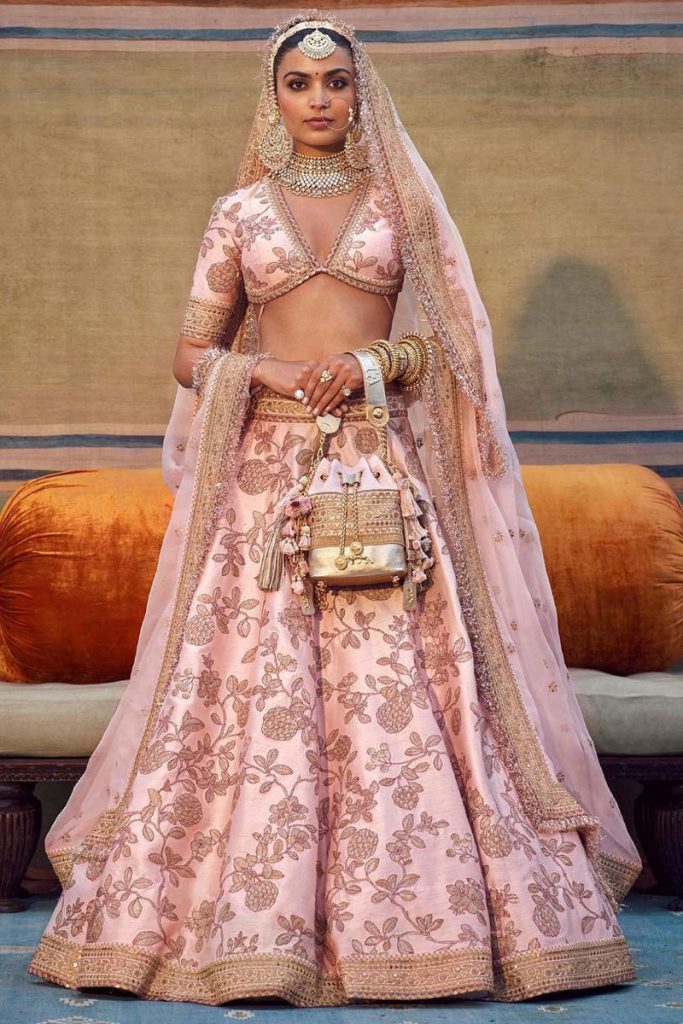 Blush tone lehengas are alternative to the classic red lehenga for the brides who want to adorn traditional bridal outfits but not in the signature colour. The detailed embroidery and handwork with heavy embellishments attract everyone's attention. The Sabya bridal blush lehengas are a fantastic and phenomenal choice for a bride who wants to be dressed up in a chic style without compromising on tradition.  
Sequin Embroidery Lehenga: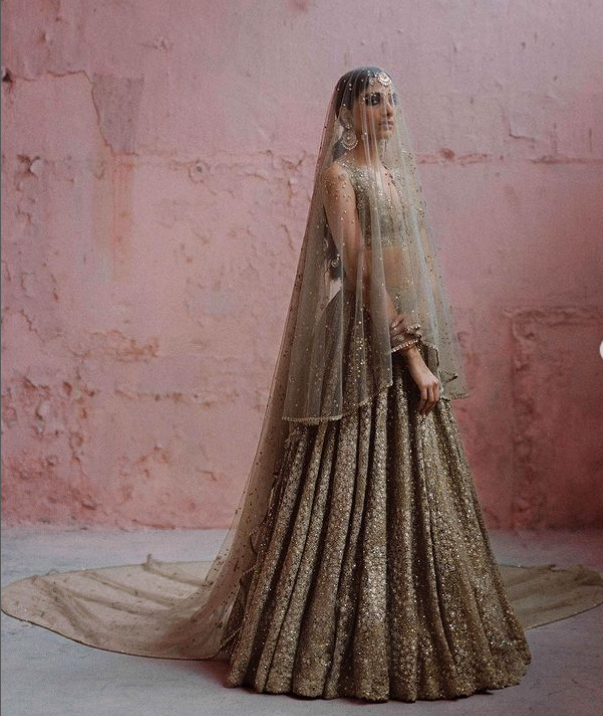 A bride with a taste in iconic fashion and flattering style looking for a surreal bridal outfit should opt for a sequin lehenga. Displaying the magic of lavishness and sensation, a sequin lehenga is undoubtedly a head-turner. Exhibit your fashion sense on your wedding day and enjoy your nuptials like a diva dressed in a glam Sabyasachi lehenga designed to perfection by skilled artisans.     
Multipanel Lehenga: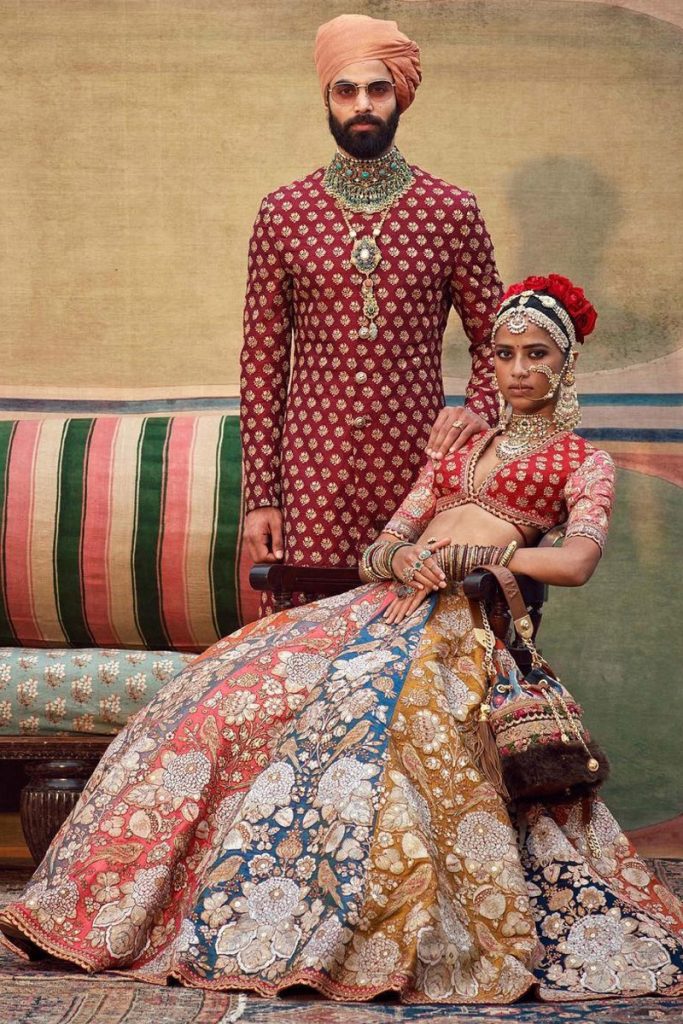 This Sabyasachi lehenga is a synonym for the royal personification of Rajput Maharanis. A quintessential illustration of royalty and tradition stitched into perfection amalgamated with various colours of culture, love, and beauty depicts the narration of Indian magnificence. This latest Sabyasachi bridal lehenga is an absolute wow because of its multiple colourful panels combined with various Indian embroidery. 
Aashni and Co – a premium Indian designer clothing store has a range of haute couture, ready-to-wear, jewellery, and accessories. Pioneers of Indian high fashion and presenting the customers with the most desirable edits, Aashni + Co has a curated collection of fashion ensembles to garner every individual with the best Indian designs. – Sabyasachi has a category of best Indian bridal wear collections along with accessories like belts, clutches and men's wear listed at Aashni +Co.